Portfolio Mat - Clearance
Brand:Tyndell
Starting at $3.35 eachView price chart
Our Portfolio Mats are an excellent option for displaying and delivering your fine portraits! Crafted from high-quality mat board, our folio mats are acid free and feature a soft-white linen texture finish with a decorative beveled edge to frame your prints. Please see additional details in the Product Description section below... View product details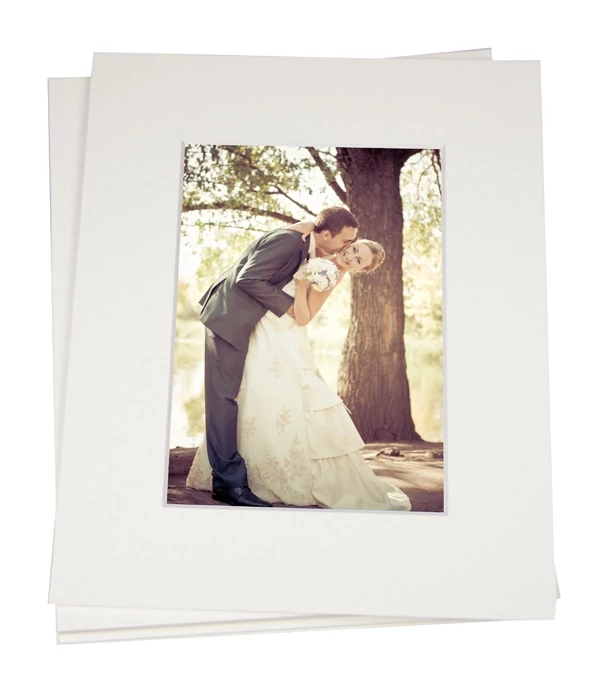 About Portfolio Mat - Clearance
Our Portfolio Mats are an excellent option for displaying and delivering your fine portraits! Crafted from high-quality mat board, our folio mats are acid free and feature a soft-white linen texture finish with a decorative beveled edge to frame your prints. Please see additional details in the Product Description section below...
Constructed with high-quality, mat board
Die cut beveled edge to frame prints
Acid-free
Soft-white with subtle linen textured finish
Large mats are available in three options: 7x10 prints, 8x10 prints, 8x12 prints
Slip-in, top-loading for quick and easy loading
Designed to fit up to 18 mats in our 8x10 and 11x14 Portfolio Boxes
Click here to view the cost of customization.
PRICE PER Portfolio Mat - Clearance

| Item / Size | Color | Price for 1 |
| --- | --- | --- |
| 7X10 - Portfolio Mat | White | 3.35 |
| 8X10 - Portfolio Mat | White | 3.35 |
| 8X12 - Portfolio Mat | White | 3.35 |
08/31/2017

Joshua Powell Says

"I ordered these on a very early Friday morning, and the website at checkout provided a delivery date of Monday with FedEX Ground shipping. I needed them for a portrait reveal that week, and felt confident they'd arrive on time. I even put in the special notes on check out that I wanted to confirm the delivery date as listed at checkout. I never received any response regarding that request, but was sent the receipt and invoice that afternoon in multiple emails. After tracking the package after shipping, it was actually scheduled to be delivered on Wednesday, not Monday, via FedEx. My city, being in Texas, was not effected by Hurricane Harvey so I knew according to FedEx that was not the reason for the delay. I'm assuming the estimated time on Tyndell's website was incorrect. I received my matt's Wednesday afternoon and I'm not completely thrilled with them. Some of the corners were slightly smushed in, and there is a repetitive, fine texture on the matt's that you can't see on the website. I think these are fine for sampling, but as far as actually using for clients again I don't know. I also noticed that after putting my portraits in them the next morning the matt on top wasn't laying completely flat anymore. It was *slightly* warping and I mean slightly so I'm probably being picky there. I ordered the large matt (11x14) with a 7x10 opening."

08/31/2017

Anonymous Says

"I have purchased these from several vendors but was referred to Tyndell earlier this year. I stopped in and picked these up (Yay local source). Overall great price and I am happy with the purchase."