Folder Starter Kit
Brand:Tyndell
Starting at $72.82 eachView price chart
The Profit Line T-50 portrait folder, is an easy way to enhance your photos at an affordable price. The Profit Line T-50 is a great way to present your portraits to your clients in a professional manor while keeping your costs down and your profit margins high. The T-50 Folder Starter Kit is a great way to get started branding your products for minimal cost to you for the set up. The T-50 Starter Kit includes: View product details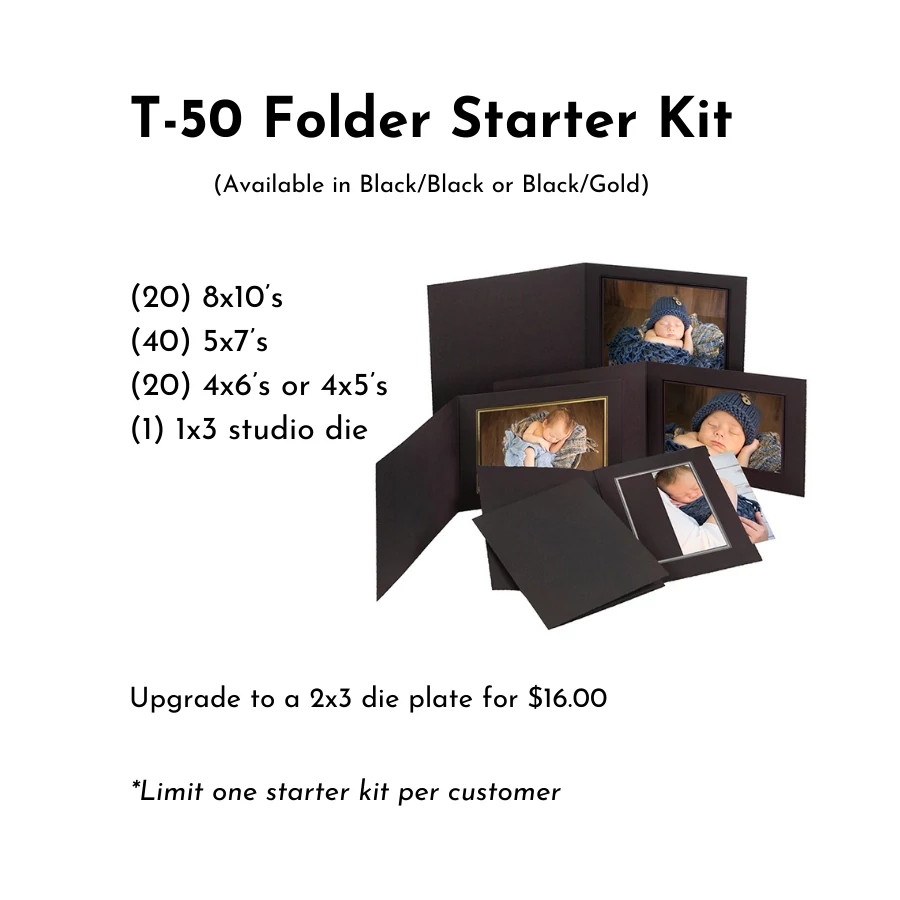 About Folder Starter Kit
The Profit Line T-50 portrait folder, is an easy way to enhance your photos at an affordable price. The Profit Line T-50 is a great way to present your portraits to your clients in a professional manor while keeping your costs down and your profit margins high. The T-50 Folder Starter Kit is a great way to get started branding your products for minimal cost to you for the set up. The T-50 Starter Kit includes:
(20) 8x10s, (40) 5x7s, (20) 4x6s or 4x5s

Select 4x6s or 4x5s and folder type in drop down menus below
Ebony/Gold or Ebony/Ebony
Click here to view the cost of customization.

(1) 1x3 Studio Die Plus FREE IMPRINTING!
Add $16.00 more and upgrade to a 2x3 Studio Die
One Folder Starter Kit per customer
PRICE PER Folder Starter Kit

| Item / Size | Color | Price for 1 |
| --- | --- | --- |
| Folder Starter Kit | Black/Gold or Black/Black | 72.82 |
No Reviews
There are no published reviews for this product yet.