Flash Drive Box - Rustic Wood - Clearance
Brand:Tyndell
Starting at $10.38 eachView price chart
This charming rustic wood flash drive box is a perfect pairing for the Maple Wood Flash Drives. It offers a charming way to deliver your digital photograph files. This box is an economical, stylish two piece slide top box. We offer free engraving or full color printing on the lid. There is a minimum order of 2 pieces. Natural wood filling is included with the box. MAPLE FLASH DRIVE SOLD SEPARATELY. Or make it a bundle by adding the Maple USB or Wood Cap Crystal USB for Bundled Priding. Please allow 5-7 business days for any customization. Customizing your product: For highest quality results please upload AI, PSD, or or high resolution (300 DPI) PNG files. JPG files are not recommended. View product details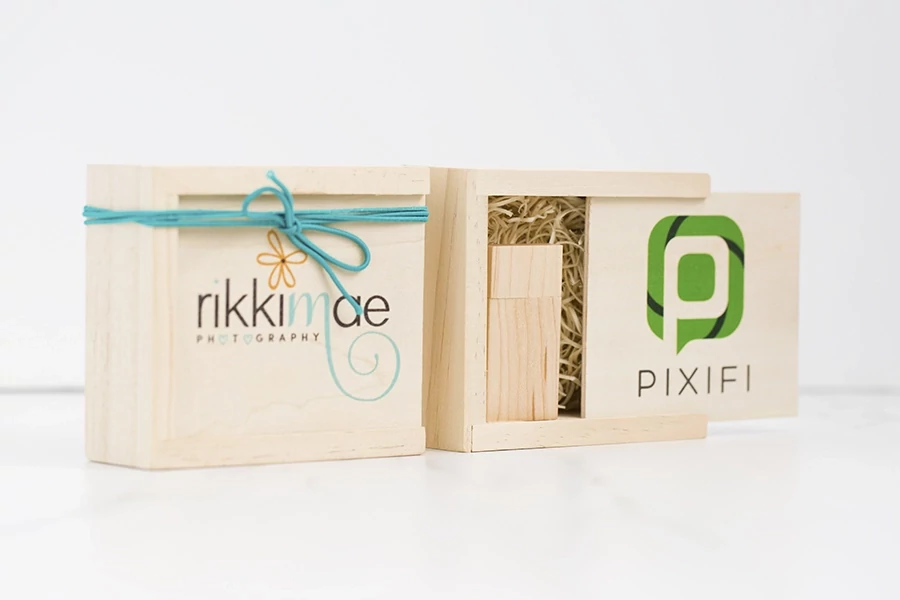 About Flash Drive Box - Rustic Wood - Clearance
This charming rustic wood flash drive box is a perfect pairing for the Maple Wood Flash Drives. It offers a charming way to deliver your digital photograph files. This box is an economical, stylish two piece slide top box. We offer free engraving or full color printing on the lid. There is a minimum order of 2 pieces. Natural wood filling is included with the box. MAPLE FLASH DRIVE SOLD SEPARATELY. Or make it a bundle by adding the Maple USB or Wood Cap Crystal USB for Bundled Priding. Please allow 5-7 business days for any customization.
Customizing your product: For highest quality results please upload AI, PSD, or or high resolution (300 DPI) PNG files. JPG files are not recommended.
Click here to view the cost of customization.
PRICE PER Flash Drive Box - Rustic Wood - Clearance

| Item / Size | Color | Price for 1 |
| --- | --- | --- |
| NATURAL - Rustic Wood Flash Drive Box | Natural Wood | 10.38 |
We prefer an .ai or .eps file, however, any standard file extension is acceptable, as long as it is a high resolution (300 dpi or higher). When uploading the artwork, the file size must be smaller than 8MB.
No Reviews
There are no published reviews for this product yet.