Swivel Flash Drive
Brand:Tyndell
Starting at $5.95 eachView price chart
This a perfect high quality, yet cost effective way to deliver your digital photography files. The Swivel Flash Drive Base is available in 4 color options: Black, Teal, Titanium, and White. The Swivel Caps are available in 3 color options: Black, Titanium, and White. Pricing includes two-sided laser engraving or full color printing. You can engrave your studio logo on one side and 2 lines of text (20 character limit per line) on the other side. For a complete package delivery pair with one of our USB Kits or one of our other USB packaging options.View product details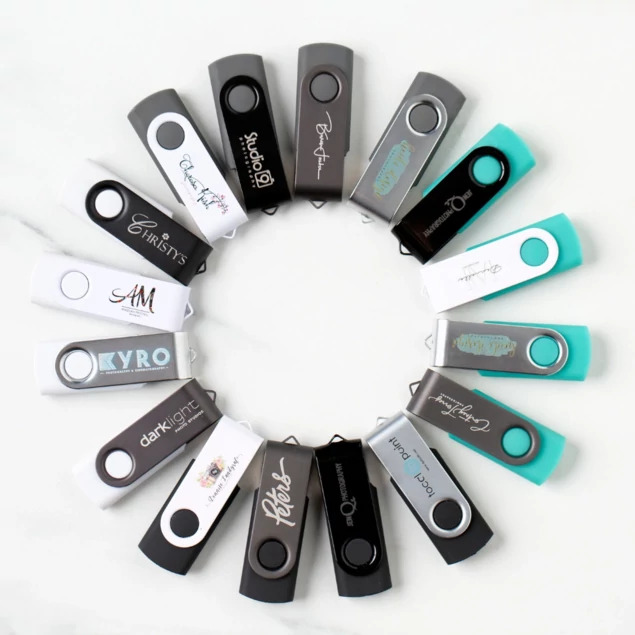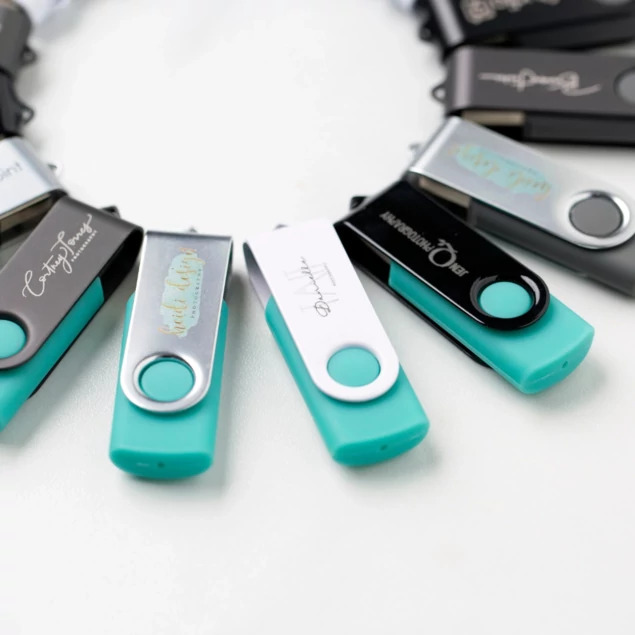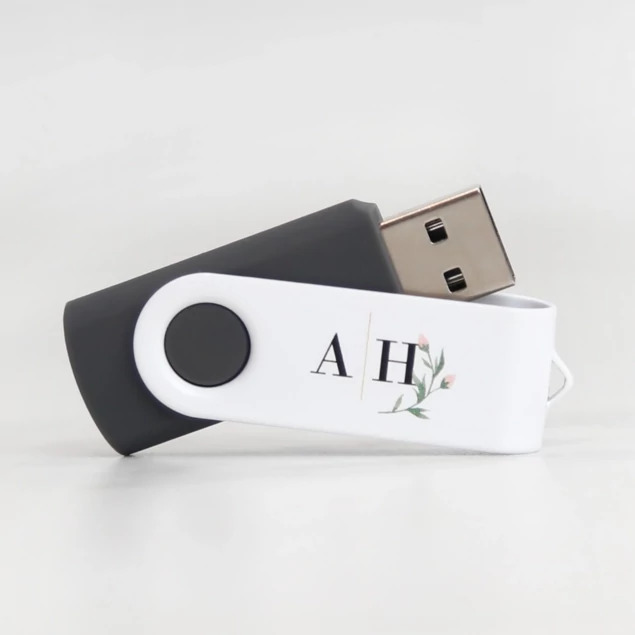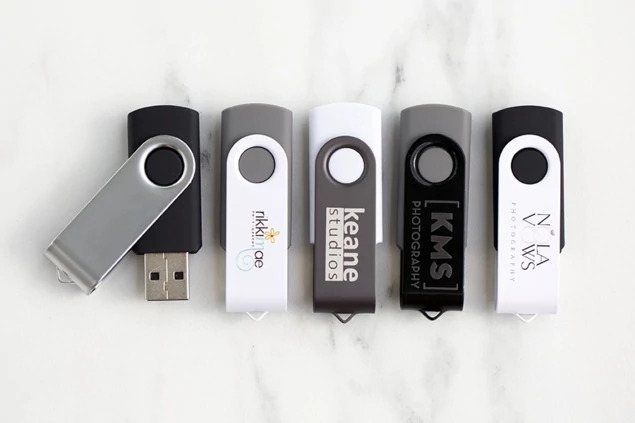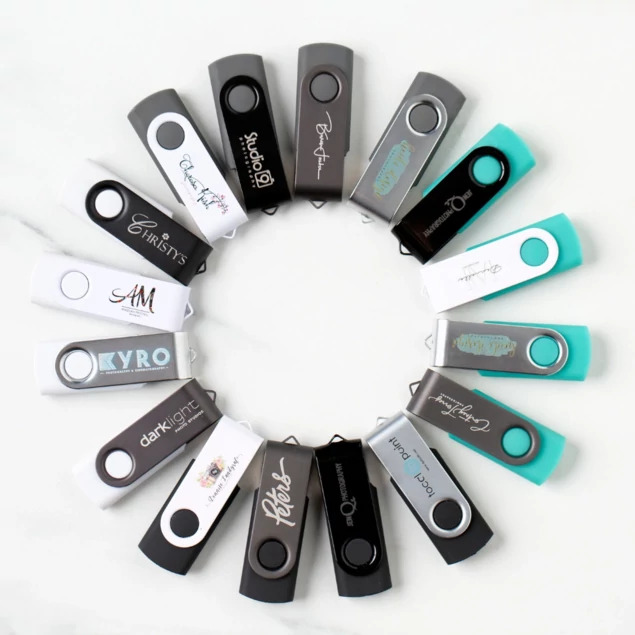 About Swivel Flash Drive
This a perfect high quality, yet cost effective way to deliver your digital photography files. The Swivel Flash Drive Base is available in 4 color options: Black, Teal, Titanium, and White. The Swivel Caps are available in 3 color options: Black, Titanium, and White. Pricing includes two-sided laser engraving or full color printing. You can engrave your studio logo on one side and 2 lines of text (20 character limit per line) on the other side. For a complete package delivery pair with one of our USB Kits or one of our other USB packaging options.
---
Base Colors: Black, White, Teal and Titanium
Cap Colors: Aluminum, Black, White and Titanium
2.0 Capacities: 128MB, 256MB, 512MB, 1GB, 2GB, 4GB, 8GB, and 16GB
3.0 Capacities: 8GB and 16GB
3.0 Technology: The new 3.0 technology is a faster more reliable technology with a faster transfer speed and allows you to upload and download at the same time
Price includes 2 sided laser engraving or full color printing (white caps are not available for laser engraving)
Customizing your product: For highest quality results please upload AI, PSD, or high resolution (300 DPI) PNG files; JPG files are not recommended
Click here to view the cost of customization.
PRICE PER Swivel Flash Drive
Item / Size
Color
1
2
10
25
50
1GB - Swivel Flash Drive
Black Base
$

9.08

$

8.38

$

7.47

$

7.20

$

6.65

1GB - Swivel Flash Drive
Titanium Base
$

9.08

$

8.38

$

7.47

$

7.20

$

6.65

1GB - Swivel Flash Drive
White Base
$

9.08

$

8.38

$

7.47

$

7.20

$

6.65

1GB - Swivel Flash Drive
Teal Base
$

9.08

$

8.38

$

7.47

$

7.20

$

6.65

2GB - Swivel Flash Drive
Black Base
$

12.16

$

11.48

$

10.73

$

9.93

$

8.60

2GB - Swivel Flash Drive
Titanium Base
$

12.16

$

11.48

$

10.73

$

9.93

$

8.60

2GB - Swivel Flash Drive
White Base
$

12.16

$

11.48

$

10.73

$

9.93

$

8.60

2GB - Swivel Flash Drive
Teal Base
$

12.16

$

11.48

$

10.73

$

9.93

$

8.60

4GB - Swivel Flash Drive
Titanium Base
$

14.35

$

13.77

$

12.98

$

12.40

$

10.21

4GB - Swivel Flash Drive
White Base
$

14.35

$

13.77

$

12.98

$

12.40

$

10.21

4GB - Swivel Flash Drive
Teal Base
$

14.35

$

13.77

$

12.98

$

12.40

$

10.21

4GB - Swivel Flash Drive
Black Base
$

14.35

$

13.77

$

13.54

$

12.98

$

10.79

8GB - Swivel Flash Drive
Black Base
$

20.00

$

17.00

$

16.25

$

12.25

$

9.25

8GB - Swivel Flash Drive
White Base
$

20.00

$

17.00

$

16.25

$

12.25

$

9.25

8GB - Swivel Flash Drive
Titanium Base
$

20.00

$

17.00

$

16.25

$

12.25

$

9.25

8GB - Swivel Flash Drive
Teal Base
$

20.00

$

17.00

$

16.25

$

12.25

$

9.25

8GB - Swivel Flash Drive 3.0
Black Base
$

23.00

$

20.00

$

19.25

$

15.25

$

12.25

8GB - Swivel Flash Drive 3.0
Titanium Base
$

23.00

$

20.00

$

19.25

$

15.25

$

12.25

8GB - Swivel Flash Drive 3.0
White Base
$

23.00

$

20.00

$

19.25

$

15.25

$

12.25

8GB - Swivel Flash Drive 3.0
Teal Base
$

23.00

$

20.00

$

19.25

$

15.25

$

12.25

16GB - Swivel Flash Drive
Black Base
$

26.00

$

23.00

$

22.25

$

18.25

$

15.50

16GB - Swivel Flash Drive
White Base
$

26.00

$

23.00

$

22.25

$

18.25

$

15.50

16GB - Swivel Flash Drive
Titanium Base
$

26.00

$

23.00

$

22.25

$

18.25

$

15.50

16GB - Swivel Flash Drive
Teal Base
$

26.00

$

23.00

$

22.25

$

18.25

$

15.50

16GB - Swivel Flash Drive 3.0
Black Base
$

29.00

$

26.00

$

25.25

$

21.25

$

18.50

16GB - Swivel Flash Drive 3.0
Titanium Base
$

29.00

$

26.00

$

25.25

$

21.25

$

18.50

16GB - Swivel Flash Drive 3.0
White Base
$

29.00

$

26.00

$

25.25

$

21.25

$

18.50

16GB - Swivel Flash Drive 3.0
Teal Base
$

29.00

$

26.00

$

25.25

$

21.25

$

18.50

128MB - Swivel Flash Drive
Black Base
$

5.95

$

5.14

$

4.60

$

4.27

$

4.01

128MB - Swivel Flash Drive
Teal Base
$

5.95

$

5.14

$

4.60

$

4.27

$

4.01

128MB - Swivel Flash Drive
White Base
$

5.95

$

5.14

$

4.60

$

4.27

$

4.01

128MB - Swivel Flash Drive
Titanium Base
$

5.95

$

5.14

$

4.60

$

4.27

$

4.01

256MB - Swivel Flash Drive
Titanium Base
$

5.95

$

5.14

$

4.60

$

4.27

$

4.01

256MB - Swivel Flash Drive
Black Base
$

6.44

$

5.74

$

4.81

$

4.55

$

4.22

256MB - Swivel Flash Drive
Teal Base
$

6.44

$

5.74

$

4.81

$

4.55

$

4.22

256MB - Swivel Flash Drive
White Base
$

6.44

$

5.74

$

4.81

$

4.55

$

4.22

512MB - Swivel Flash Drive
Black Base
$

7.74

$

7.03

$

6.12

$

5.84

$

5.30

512MB - Swivel Flash Drive
Teal Base
$

7.74

$

7.03

$

6.12

$

5.84

$

5.30

512MB - Swivel Flash Drive
White Base
$

7.74

$

7.03

$

6.12

$

5.84

$

5.30

512MB - Swivel Flash Drive
Titanium Base
$

7.74

$

7.03

$

6.12

$

5.84

$

5.30
12/13/2015

Anonymous Says

""