Crystal Flash Drive and Fabric USB Box Bundle
Brand:Tyndell
Starting at $22.19 eachView price chart
Bundle your USB flash drives and coordinating packaging for additional savings! Our Crystal Flash Drives are an elegant way to deliver digital images to your clients. In this bundle the flash drive is paired with a Fabric USB Box for a high-end delivery! View product details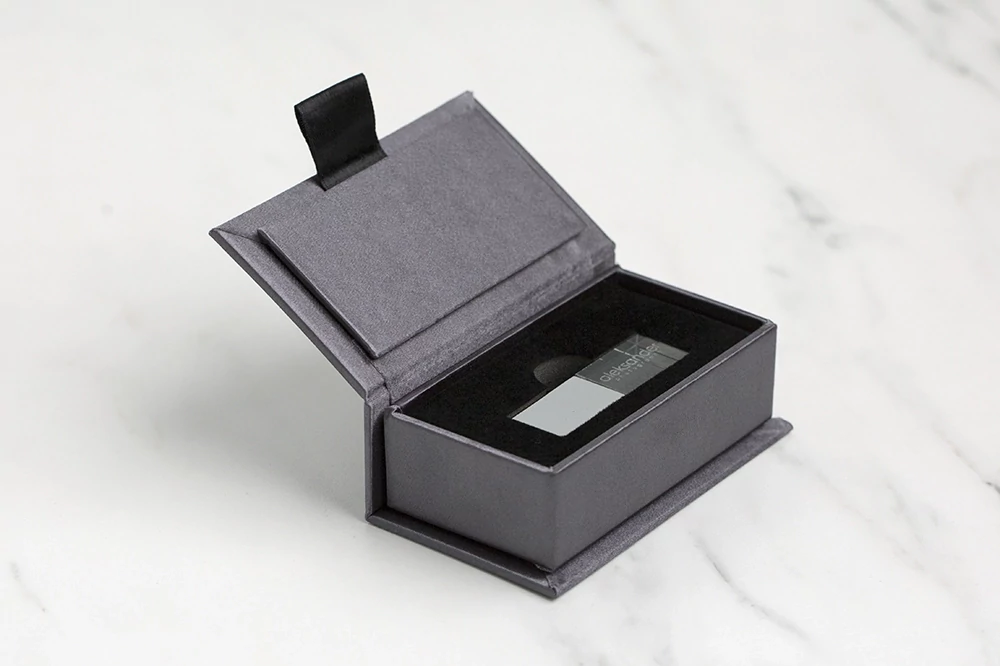 About Crystal Flash Drive and Fabric USB Box Bundle
Bundle your USB flash drives and coordinating packaging for additional savings! Our Crystal Flash Drives are an elegant way to deliver digital images to your clients. In this bundle the flash drive is paired with a Fabric USB Box for a high-end delivery!
---
Crystal Flash Drive
Available in four colors: Black cap, Gold cap, Silver cap, Rose Gold Cap
Available in four sizes: 4GB, 8GB, 16GB, 32GB (Black or Silver cap only)
Select Crystal Flash Drives are now available with NEW 3.0 technology for faster and more efficient uploads/downloads
We recommend this product for: wedding portraits, family and children portraits, newborn portraits, fine portraits
FREE laser engraving available
Click here to view the cost of customization.
USB Fabric Box
Available in two colors: Black, Gray
Wrapped and lined with high-quality fabric
Hinged box with a black looped ribbon tab to easily open the box
Velvet insert holds flash drive securely in place
Holds one flash drive
*Wood Cap Crystal Flash Drives do not fit in this box
FREE laser engraving available
We recommend this product for: wedding portraits, family and children portraits, newborn portraits, fine portraits
---
Acceptable files for laser engraving: AI or EPS are preferred; JPG, PDF, PNG, and PSD files are acceptable; minimum 300 DPI; 600 DPI is preferred
PRICE PER Crystal Flash Drive and Fabric USB Box Bundle

| Item / Size | Color | Price for 1 |
| --- | --- | --- |
| 4GB - Crystal Flash Drive | Black Cap | 22.19 |
| 4GB - Crystal Flash Drive | Gold Cap | 22.19 |
| 4GB - Crystal Flash Drive | Silver Cap | 22.19 |
| 4GB - Crystal Flash Drive | Rose Gold Cap | 22.19 |
| 8GB - Crystal Flash Drive | Black Cap | 23.80 |
| 8GB - Crystal Flash Drive | Gold Cap | 23.80 |
| 8GB - Crystal Flash Drive | Silver Cap | 23.80 |
| 8GB - Crystal Flash Drive | Rose Gold Cap | 23.80 |
| 8GB - 3.0 Crystal Flash Drive | Silver Cap | 25.97 |
| 8GB - 3.0 Crystal Flash Drive | Black Cap | 25.97 |
| 8GB - 3.0 Crystal Flash Drive | Gold Cap | 25.97 |
| 8GB - 3.0 Crystal Flash Drive | Rose Gold Cap | 25.97 |
| 16GB - Crystal Flash Drive | Black Cap | 28.69 |
| 16GB - Crystal Flash Drive | Gold Cap | 28.69 |
| 16GB - Crystal Flash Drive | Silver Cap | 28.69 |
| 16GB - Crystal Flash Drive | Rose Gold Cap | 28.69 |
| 16GB - 3.0 Crystal Flash Drive | Silver Cap | 30.85 |
| 16GB - 3.0 Crystal Flash Drive | Black Cap | 30.85 |
| 16GB - 3.0 Crystal Flash Drive | Gold Cap | 30.85 |
| 16GB - 3.0 Crystal Flash Drive | Rose Gold Cap | 30.85 |
| 32GB - Crystal Flash Drive | Black Cap | 37.34 |
| 32GB - Crystal Flash Drive | Silver Cap | 37.34 |
| 32GB - Crystal Flash Drive | Rose Gold Cap | 37.34 |
02/09/2019

Vanessa Says

"These USB drives and boxes provide a luxurious and high end experience for my business. I use one as a sample all the time to show potential clients how their digitals will be delivered and they get so excited to order it. I love how it looks like a jewelry box that opens up to a beautifully engraved rose gold crystal USB inside. Definitely gives a WOW factor. The option to get your logo on the top of the box is awesome, too!"